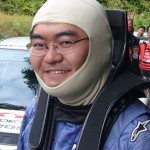 Takumi Takahashi has a lot of experiences in motor sport for over 20 years, has competed in the rally of more than 200 races. Since he debuted in Japanese Rally Championship(JRC) 2-wheel drive class as a Navigator, he has been working with various type of drivers not only on JRC but also WRC, ERC, APRC. In 2006 Seisuke Ohba entered in the series of JRC with Takahashi as a regular navigator.

WRC
---
2011  N4 Rally Japan Mitsubishi Lancer Evo Ⅸ    (Kyosuke Kamata)   4th of PWRC
2006  N4 Rally Japan Mitsubishi Lancer Evo Ⅸ    (Daisuke Yamada)   8th
2005  N4 Rally Japan Subaru Impreza WRX STi   (Daisuke Yamada)  23th
ERC
---
2014   RC4 Barum Czech Rally Zlin Ford Fiesta R2  (Suguru Kawana) Accident
2014   Div4 Rallye de la Famenn*   Ford Fiesta R2 (Suguru Kawana) 24th
*: Belgium Rally
APRC (Asia Pacific Rally Championship)
---
In 2013, we challenged APRC series on 3 rounds of all 7 rounds, Whangarei, Hokkaido, Malaysia with a driver "Hiroshi Asakura".
JRC (Japanese Rally Championship)
---
2015    JN-6
2014    JN-5
2011    JN-3
2008    JN-1.5
2007    JN-4
2006    JN-4
2002    2WD class C

Subaru Impreza STi N16
Toyota GT86
Toyota Levin
Daihatsu Boon
Mitsubishi Colt
Mitsubishi Lancer Evo Ⅷ
Mitsubishi Lancer Evo Ⅶ
Toyota Starlet turbo
Katsuhiko Tsutui
Suguru Kawana
Seiji Yamaguchi
Masatoshi Ogura
Seisuke Ohba
Seisuke Ohba
Seisuke Ohba
Takumi Aoshima
series 7th
Shinshiro Rally 1st
series 6th

series 2th
series 4th
series 8th
series 4th
---