Tsumagoi Cabbage Rally Team Hankook won a second place for Production Cup.
Published by Tsumagoi Cabbage Rally Team at 21th June

Tsumagoi Cabbage Rally Team supported by Hankook Tire won a second place for Production Cup of Japan Super Rally Series Rd.2 Montre in Tsumagoi. Hankook Tarmac Rally Tire Z209 and Z210 have made a brilliant debut in the Japanese Rally.
[Event content]
Montre in Tsumagoi was held in Tusmagoi-Mura, Agastuma-gun, Gunma, Japan from 8th June to 11th as both Japan Super Rally Series (JSR) Rd.2 and Japanese Rally Championship Rd.5. Tsumagoi Cabbage Rally Team supported by Hankook Tire was participated in JSR as the international class. We aimed to win the production cup which was for production cars similar to Group N.
At 8th June the official test run day, Hankook Rally Tire Ventus Z209 for dry condition and Ventus Z210 for wet condition have been tested for the first time by Mitsubishi Lancer Evolution 9 driven by Tsumagoi Cabbage Rally Team Mitsuyoshi Kuroiwa. We have tested both tires positively.
At 9th June the scrutineering day, the organizer has approved of making use of FIA approved Ventus Z209 and Z210 in this rally. Officially Hankook Rally Tires have advanced in the Japanese Rally field.
At 10th June the competition Day 1,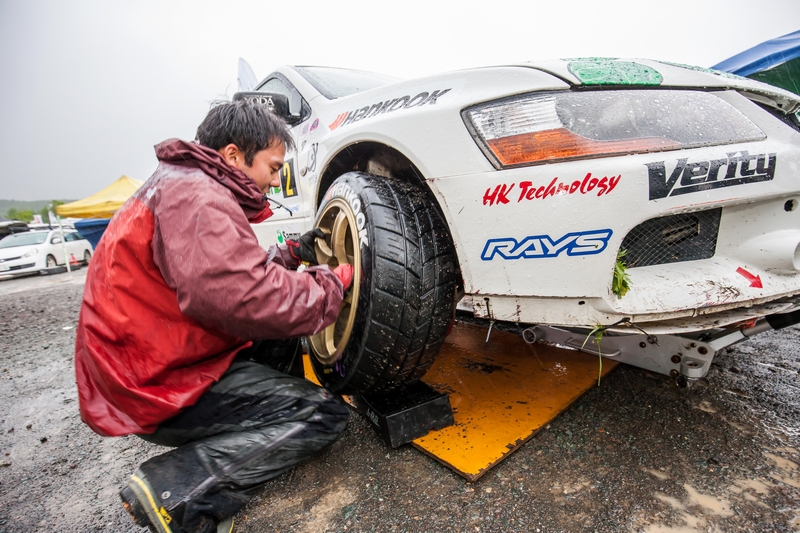 Every year this rally has been in the heavy rain. So our machine setting was specialized only in the wet condition. We expected that it would start to rain during the section 1. But it was no rain. We have delayed big. In the section 2, we expected to continue the dry condition. We were betrayed by the weather again. Just before SS5, it started to rain. Our behind time was 1 min. 53 sec. from the top of the overall. For the production cup, it was 33 sec. behind from the top. The reason was both our wrong machine setting and our wrong tire choice.
In the section 3, we gambled on the rain though many teams choose dry tires. Our choice was Ventus Z210 for rain. We won this gamble. Just before SS8, the rain for we were waiting eager has started. It rained heavily and fogged deeply. Though we did slow pace driving because of poor visibility, we got the best SS8 time for the production cup. We also took the best time of next SS9. Ventus Z210 were performed in the rain very much. The end of the section 3, we recovered the second position of the production cup. The difference with the production cup top CUSCO RACING Aoyama was only 1.9 sec.
At 11th June the competition Day 2,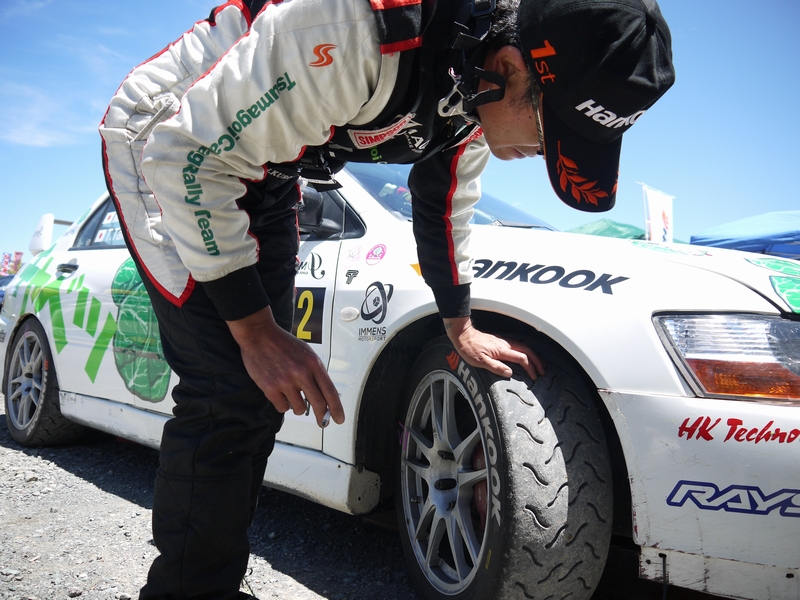 The weather was very fine. Our tire choice was Ventus Z209 for the dry condition. We got best times for the production cup alternately with Aoyama. But our machine setting was not so good that the difference with Aoyama gradually increased. Before the last SS, it was 5.1 sec. behind from Aoyama. The last SS was Omae Suzaka Down where was the home ground for Mitsuyoshi Kuroiwa. We attacked maximumly for aiming a dramatic victory. We got the best time. But Aoyama got the second time. The difference was 1.4 sec. We lost the victory. Our place was 2nd of the production cup. The total difference was only 3.9 sec. from the winner CUSCO RACING Aoyama. Regrettably we could not take the debut win for Hankook rally tires in Japan. Although, we proved the great performance of Hankook Tire for the Japanese rally competition.
[Comment of Mitsuyoshi Kuroiwa]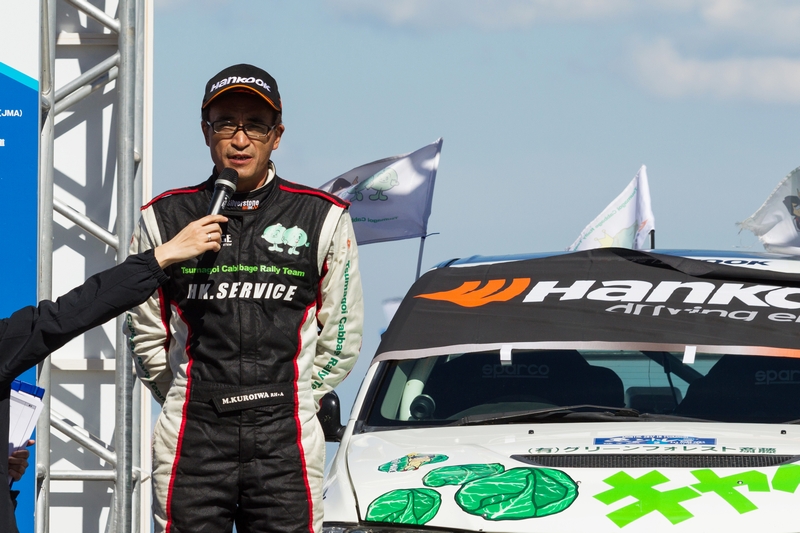 I failed my weather expectation. Early in the rally, I have taken a big behind. But in the section 3, Z210 was very suitable. It was thanks to Hankook Tire that I could recover behind 1.9 sec. from CUSCO RACING Aoyama at the end of Day1. Day 2, the machine was not suitable for the dry condition. Although, the dry tire Z209 was so good that I could fight with Aoyama closely. If I would have restrained my Day 1 behind, I would have won the production cup victory. I'm very regrettable for this result.
The next round is Rally Hokkaido at September. I will do my best to prove the potential of Hankook Tire on the gravel road.
[Result]
JSR International Overall
1st Yuya Sumiyama
CUSCO RACING TOYOTA VITZ
48 min. 25.5 sec.
2nd Yasushi Aoyama
CUSCO RACING SUBARU IMPREZA
51 min. 48.7 sec.
3rd Mitsuyoshi Kuroiwa
Tsumaogoi Cabbage Rally Team
MITSUBISHI LANCER
51 min. 42.6 sec.
JSR Production Cup
1st Yasushi Aoyama
CUSCO RACING TOYOTA VITZ
51 min. 48.7 sec.
2nd Mitsuyoshi Kuroiwa
Tsumaogoi Cabbage Rally Team
MITSUBISHI LANCER
51 min. 42.6 sec.
3rd Kouichi Nogariya
SUPER ALEX TROOP SUBARU IMPREZA
55 min. 08.3 sec.
Japan Super Rally Series (JSR)
JSR is the new international rally series which started Febrary-2017.
Rd.1 3-5th Febrary Rally of Tsumagoi (Ice & Snow on Tarmac)
Rd.2 9-11th June Montre in Tsumagoi (Tarmac)
Rd.3 15-17th September Rally Hokkaido (Gravel)
website:
http://super-rally.net/en/ (Japan Super Rally official site)
http://www.rally-montre.com/eng/eng.html (Montre in Tsumagoi)
Tsumagoi Cabbage Rally Team

Tsumagoi Cabbage Rally Team is the home ground in Tsumagoi village where is the host town of JSR Rd.1 and Rd.2. The driver is Mitsuyoshi Kuroiwa who lives in Tsumagoi village. Tsumagoi village supports to the team officially. The team name is the village name and the specialty products Cabbage. Tsumagoi Cabbage Rally Team is a very regional rally team. The result of Tsumagoi Cabbage Rally Team JSR Rd.1 was the victory of Production cup and the 2nd position of Overall. Mitsuyoshi Kuroiwa is a high level rally driver in Japan.
website:
https://terzomarumura.com/ (Team operation TERZOMARUMURA)