MINI CROSSOVER RALLY TEAM : APRC Rally Hokkaido report
At 20-September MINI CROSSOVER RALLY TEAM landed at Obihiro Hokkaido.
The team members gathered from China Taipei and around Japan as follows.
Driver : Koji Miyamoto (Tokyo)
Co-driver : Hisatsugu Okumura (China Taipei)
Chief Mechanic : Koji Kunimatsu (Osaka)
Mechanic : Atsuya Nakatani (Nagoya)
Mechanic : Hiroki Segami (Fukuoka)
Manager : Moeko Matsukawa (Obihiro)
Assistant : Masaya Furuichi (Tokyo)
Coordinator : Takumi Takahashi (Tokyo)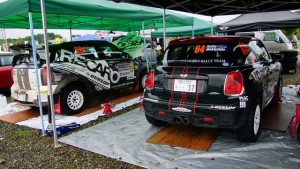 MINI John Cooper Works (JCW) RALLY TEAM which participates in Japanese Rally Championship by F56 MINI John Cooper Works collaborated with MINI CROSSOVER RALLY TEAM. In the rally service park, two MINI rally teams were adjoining.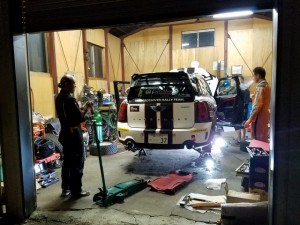 The machine modifications for APRC were too many to finish before landing in Hokkaido. So we had to modify at the local work shop, H.S. service. New shock absorbers, new mud guards and many new rally equipment were mounted on the MINI CROSSOVER rally car. Our mechanics were late working every night until the rally start day.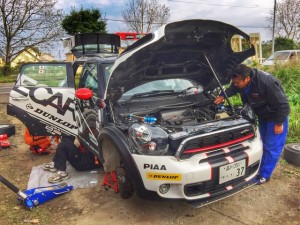 By the modification, she had changed into the real gravel rally car. She became more glamour machine. But her weight also increased very heavy too. She did not have the homologation of FIA Group N car. She could not permit her weight saving by the regulation. It was a shock to find that she lost her original ability and speed.




Rally Hokkaido started in the afternoon on 23-September.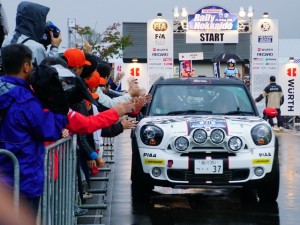 The first event for spectators was Rally Show and Ceremonial Start. MINI CROSSOVER was very favorite. Her cute face and glamour body fascinated many people. They took a lot of photos and talked with her crew Miyamoto and Okumura. Also Miyamoto's supporters came to the ceremonial start too.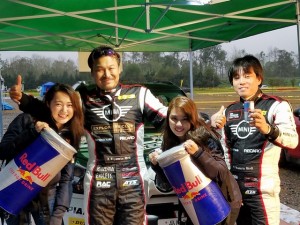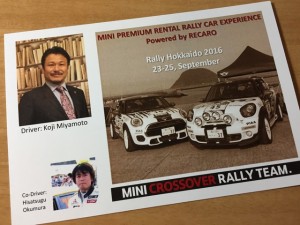 Day1A started in the evening.

At SS1 Sammy SATSUNAI 1.47km, Miyamoto drove very carefully. Because he enjoyed that he had exactly came back the rally in 8 years. Every team staff was relieved to finish SS1 without trouble. But our team staff's smooth mind had been the last.



Day1B started in the early morning on 24-September.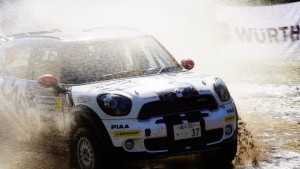 By three typhoons before the rally, the course condition became very rough. SS4 & SS8 KUNNEYWA 29.07km was the longest stage in this rally. There were many ditches and gaps in the course.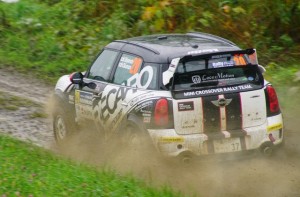 Though SS2 & SS10 IKEDA 12.37km was tarmac load, it was very slippery by heavy mud.This Rally Hokkaido would be expected harder than usual. MINI CROSSOVR, Miyamoto and Okumura started very carefully. They had finished the first loop though a lot of machines had retired.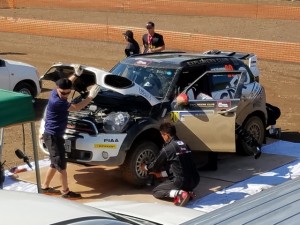 When they came back to the service at Rikubetsu, MINI CROSSOVER had an electrical trouble. Our mechanic and MINI JCW RALLY TEAM staff challenged the repair. But we could not repair within the regular time. Even though we received 1min. and 10 sec. time penalty, Miyamoto and Okumura kept smiling. Both enjoyed this rally fully.
SS8 short movie is following.
They finished SS7, SS8 and SS9 without big trouble. At refuel point, the crew said that there would be something wrong about her rear suspension. Our mechanic Nakatani found something like oil around the rear suspension. He said only that they should go carefully. It was the best and sole advice. By the regulation, we could not do anything except checking by eyes.
During the chief mechanic Kunimatsu was thinking about the countermeasure, the bad news had come. Okumura called, "Sorry, we coursed out at SS10 IKEDA."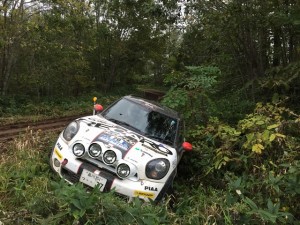 The course out point of SS10 IKEDA was very slippery down hill zone. At the first loop SS2, two cars coursed out at the same point. They were big crash. Luckily MINI CROSSOVER dropped off the road merely. She received only small damage. The cause was that Miyamoto could not control the machine by the rear suspension trouble. After the temporary repair, MINI CROSSOVER returned to the service park. Already we decided to re-start Day2.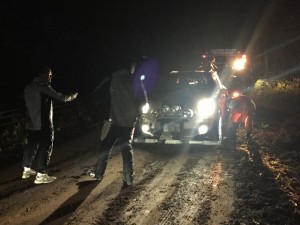 As soon as MINI CROSSOVER arrived at the service park, our mechanics checked her damage. The rear suspension was very serious damage. Regrettably the broken shock absorber could not do repairs here. So we decided to change the broken rear suspension to the spare suspension which was for tarmac specification. It was not adapt for gravel road. But we had no option except this. Our mechanics have repaired MINI CROSSOVER until over the midnight. At 03:35, the marshal permitted to line for starting DAY2.


DAY2 started at 05:00.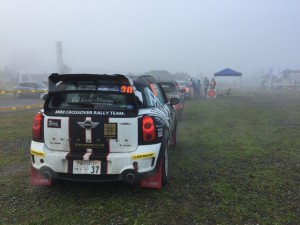 The crew drove very carefully. Because the tarmac rear suspension was very difficult to run on gravel road. SS12 and SS13 have finished. Miyamoto said, "The driving on the gravel road by the tarmac suspension was very difficult. I could not control her rear tire positions."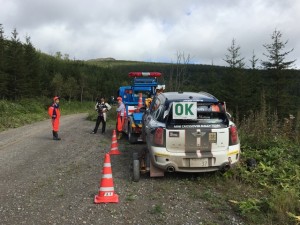 Though Miyamoto has hard fought by MINI CROSSOVER which was like rodeo, he was driving very cleverly and steady. But suddenly the end has come. The tracking data of MINI CROSSOVER has lost from the web site. #20 (MINI CROSSOVER number) icon did not move. The team staff imaged her worst ending. i.e. Course out and Crash. At the moment Okumura called, "Suddenly stopped. Maybe transmission or clutch broken. We have retired." The crew was safe. But our rally has ended.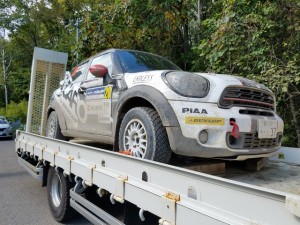 MINI CROSSOVER had no damage on her appearance. Her suspension and drive-train could not bear the rough condition of this Rally Hokkaido. The number of complete finished cars was half. This year Rally Hokkaido was very rough and difficult rally.
The challenge of Mr. Miyamoto with MINI CROSSOVER RALLY TEAM finished imperfectly.
Miyamoto put his comment on his supported club web site.(http://www.explorersclub.jp/explorer/1469)
"The result was DAY2 retired. MINI CROSSOVER was possible to run all rough roads by flat accelerator. It was usual that the machine broke by hard road condition. I appreciate the team staff who repaired MINI CROSSOVER until early hours of the morning. I already understood that Rally was speed and time competition. This time I have realized that the most important matter is to arrive at the goal. Rally is a great team sport. I want to revenge the Rally."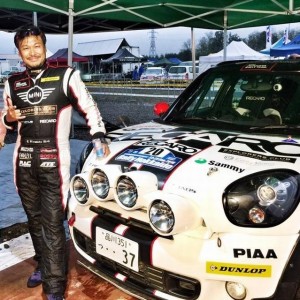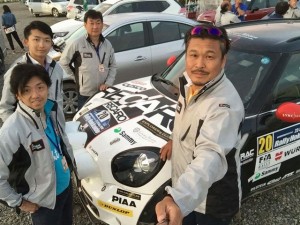 MINI CROSSOVER RALLY TEAM will be challenge to next events.
Thank you for many supported companies and person.
Articles related with APRC
facebook page: Mini-Premium-Rental-Rally-Car-Experience
Written by Takumi Takahashi, MINI CROSSOVER RALLY TEAM coordinator.